Sadly Summer is ending. School is starting back up, the weather will start to get colder and the great days on the lake is coming to an end. What now? Now is a great time to get back to church! On September 10 we are having our Kickoff service and you will get the chance to meet our leaders, find out who we are, maybe even see where you can get involved, and enjoy a great meal. We look forward to meet you and answer any questions that you have!
Hope to see you at Gathering Church!!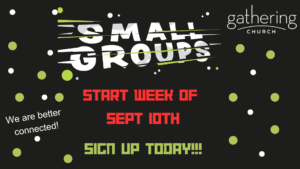 Contact Pastor Russ or one of our small group leaders for more information or to sign up!